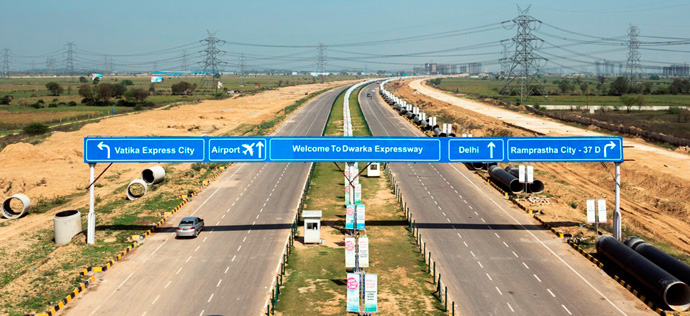 What is Vatika XPC?
Vatika Express City (XPC) is a 300 acres integrated township located in Sector 88A, 88B and 89A. XPC is designed by a team of designers of international repute who designed mega townships – Vatika India Next, Gurgaon and Vatika Infotech City, Jaipur.
Strategically located along the 150m wide Dwarka Expressway and the 75m wide State Highway SH -15A, XPC is designed along the principles of sustainability and conservation of water and energy. The township offers various residential options including plots of various sizes and gated condominiums. Plot areas on offer range from efficient 225 sq m to larger holdings of upto 800 sq m.
Why Vatika Express City ?
Ample green spaces have been planned including parks, incidental greens and tree lined streets and avenues. Emphasis have been given to street design with minimum 12m width, lined with shady trees and wide sidewalks. The township will offer a mix of residential, commercial and retail offerings. It includes local shopping centers, educational facilities, landscaped greens, clubs, entertainment facilities and community centers for the convenience of residents.
Vatika Express City is excellently located, at the intersection of Dwarka Expressway and Pataudi road (now known as National Highways). Thus the project has frontages on two major roads, with widths of 150 metres and 75 metres. Not just that, the township actually adjoins the 200 metre wide commercial belt, the biggest commercial area in the region.
The township enjoys superb connectivity – via National Highway to North-West Delhi and to Manesar and Gurgaon. The Vatika Express City is a well planned integrated township and superbly located on the Metro corridor, and the Phase IV extension of the Metro will bring the service right to the township. This 18 km-long –zone at the National Highway is well surrounded by existing and upcoming Commercial & Institutional sectors including top-notch schools, hospitals and entertainment zones.
Dwarka Expressway (also known as the Northern Peripheral Road) is seeing unprecedented growth, and this will accelerate habitation at Vatika Express City as well.
The green area set aside in the Gurgaon Manesar Master Plan 2031 is very close to the township. This proximity means better environmental quality for Vatika Express City and an additional green area that the residents can enjoy conveniently. Almost 80 acres of land within the project is dedicated for recreational greens to provide a healthy and serene environment to the residents.
A very special world
Vatika Express City is an entire township designed for the discerning. The 300 acres where it is being built are at the intersection of two major roads – the Dwarka Expressway and the Pataudi Road. The township is being developed along lavish lines, with broad avenues, extensive greens and up-market residences.
Vatika Express City is a low-density township, with emphasis on large plot sizes and well-spaced residences. It will be serene and exclusive neighbourhood – reminiscent of Lutyen's Bungalow Zone in Delhi.
The Complete Living Experience
An exceptional quality of life requires many contributing factors to be in place. And in this respect, Vatika Express City will be difficult to equal. Vatika's vast experience in township planning has come to the fore at XPC, and this huge project has actually been thought-out with meticulous detailing and it encompasses every aspect of the residents' lives.
Connectivity & Commuting
Situated at the intersection of the Northern Peripheral Road and the Pataudi Road (State Highway 15A), Vatika Express City has frontages on both these major roads and enjoys easy road connectivity to North-West Delhi, South-West Delhi, Gurgaon and Manesar.
The township is located right on the Metro Corridor, and the Phase IV extension of the Metro is scheduled to bring its services virtually to the residents' doorsteps.
Vatika Express City is located within easy reach of various significant places:
| | |
| --- | --- |
| Delhi / Dwarka | 11 km |
| IGI Airport Terminal 3 | 18 km (via NPR) |
| Proposed ISBT | 9 km |
| Sultanpur Bird Sanctuary | 5 km |
| Vatika India Next | 6 km |